Pyramid 0.59mm Carbon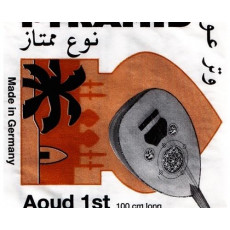 Pyramid 0.59mm Carbon
Dimensions:
20.00cm x 20.00cm x 5.00cm
Experience the vibrant, projecting & contemporary tone of Carbon strings. Designed to the exacting specifications of nylon trebles, fluorocarbon strings deliver unmatched superior intonation, a responsive attack and modern projecting tone. Carbons offer the ideal combination of tension and tone for today's players.
Set of 2 strings to be used as first strings (f'f') of a 13 string Oud, 100cm long.
no images
Pecanlaan 33
3545 AE Utrecht
The Netherlands
VAT NR: NL002425497B62
COC NR: 30208042
+31 (0)6 3040 31 83
info@orientalinstruments.com