One of the branches of guitar is called Barbados or harper. With the advent and growth of Islam this genuine Iranian musical instrument traveled around the world and is being now used from China up to Italy.
Statues unearthed from Shush and dating back to 1500 years ago as well as those excavated in Haft Tappeh are proof of the genuine Iranian origin of this ancient instrument.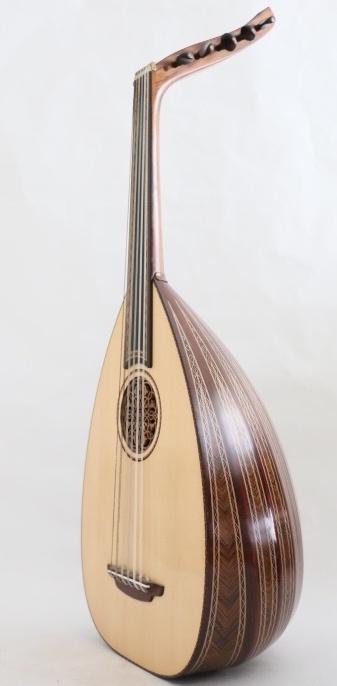 This Persian/Iranian Barbat instrument is made based on the old Barbat of the ancient time by Ustad Ganbarimehr.
The main parts are:
1.Body made of walnut, maple, rosewood and/or many other wood sorts
2.Neck and pegbox mostly made of walnut wood
3.Soundboard made of spruce or red cedar
4.Tuning pegs made of ebony or rosewood
5.Bridge made of walnut, ebony,or rosewood
Sound scale of 10 string Barbat is as shown below:
Sound scale of 11 string Barbat is as shown below: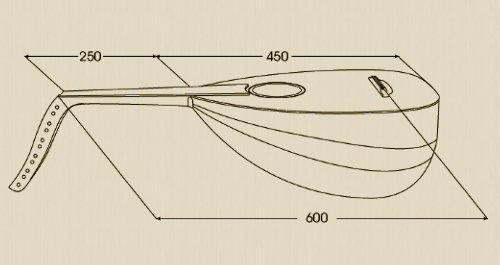 Decorations and ornamentations on Barbat as well as Oud is unlimited.
We have three main models as :
1. The simple body which is made of walnut wood or rosewood without any decorations on
2. The half-ornated Barbat (herringbone style)
3. The fully-ornated Barbat
Ordering options:
1. Number of strings
2. Soundboard wood spruce or red cedar
3. Tuningpegs rosewood or boxwood or ebony
4. Fingerboard ebony or rosewood
Included:
1.Hardcase
2.Pick