Iranian Oud By Yahya/Curly Sapele/Ordered,Instock & Shipped!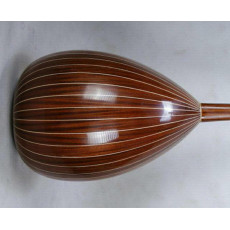 Yahya has proven his mastery in oud making in last years and still surprise me with his gorgeous designs. He's a decent young man with high ambitions but humble attitude of making-oud-for-passion not merely for making money. Each of his ouds has enjoyed his attention for detail and mastery in art of luthierie for a humble price.
His ouds so far have found great places in their new homes and made their owners feel musically richer and more inspired.
This one is made of top grade curly sapele with maple stripes and arm rest! Ebony fingerboard, Full Sapele peg box, Bone nut, Sapele binding, Rosewood bridge with top layer of ebony, Wengé Shams and 4A grade german spruce top in scale of 58.5cm. Back finish is Shellac. Top has no finish!
Action at the neck joint: bass side 3mm-Treble side 2.5mm with no BUZZ!
Oud comes with hardcase & a soft padded carrying Gig-bag.