Masoud Agha Mohammadi Oud/Ordered,instock&Shipped!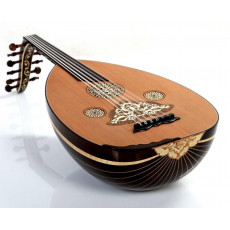 What a masterpiece. I think this one needs no explanation.
Being a luthier and a designer at the same time proves that Masoud Agha Mohammadi is definitely a master luthier!
This one is already ordered and sold!
Available by order!
Specs:
Bowl: Wengé with maple stripes
Soundboard: Canadian Cedar 5A grade
Neck: Wengé
Pegbox: Wengé
Tuning pegs: Rosewood
Binding: Rosewood
Fingerboard: Ebony
Bridge: Ebony
Nut: Bone
Finish: All around Shellac/French Polish
Rosette: Maple
Pick guard: Walnut burl with maple inlay
Scale: 58.5cm, 6-course
Comes with handmade hardcase plus a soft carrying gig-bag.