Masoud Agha Mohammadi Oud 7-course/ SOLD!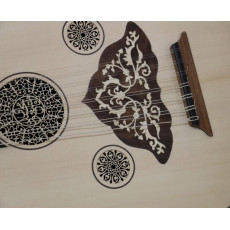 In Stock and ready to ship!
Stunning work of art. These ouds are unique with unimaginable eye for detail with great orchestral sound!
Specs:
Bowl: Wengé with maple stripes
Soundboard: Engelmann spruce 5A grade
Neck: Wengé with maple stripes
Pegbox: Wengé with maple inlay
Tuning pegs: Rosewood
Binding: Rosewood
Fingerboard: Ebony
Bridge: Ebony
Nut: Bone
Finish: French Polish
Rosette: Maple
Pick guard: Compicate inlay work with different woods
Scale: 58.5cm, 7-course
Comes with a soft carrying gig-bag.