Gheychak Alt/Ordered, InStock & Shipped!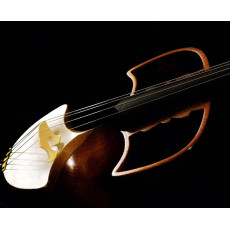 SOLD!
If you've ever heard of Mohammadi Bros, you already know the pedigree of this GHeychak. Let's take a look at this cadillac of Gheychaks, the 2017 Mohammadi bros Instrument. This Gheychak appointments shine in pristine glory: delicately-colored Mulberry body trim rings the soundhole.
If this one were any prettier, i'd rent it out for beauty pagents rather than sell it outright--but that would be a dishonor to the voice that lurks beneath the flawless surface. One touch of the strings reveals that this gheychak have been consistently matched and sound magnificently. An anomaly, we know, not really what you expect, but where there's a will there's a Mohammadi Bros. Given that he's an absurdly talented Luthier, he was probably thinking of how to make this one sound the best.
Once plucked, you'd better hold on for the ride: the voice is ferocious, with a well-defined low-end and treble notes to put a songbird to shame. I practically guarantee that whatever tune you decide to play on this one, you'll never want to hear it from another gheychak, again.
Want to order, please contact me.
Specs:
Bowl: Mulberry
Neck: one piece walnut
Pegbox: one piece walnut
Tuning pegs: Wittner
Fingerboard: Ebony
Bridge: Maple
Nut: Bone
Finish: All around Shellac/French Polish
Comes with handmade hardcase plus a soft carrying gig-bag.
Free worldwide shipping, insured!
More info or reservation? Please contact me at: This email address is being protected from spambots. You need JavaScript enabled to view it.