Soprano Kamancheh By Mohammadi Bros/SOLD!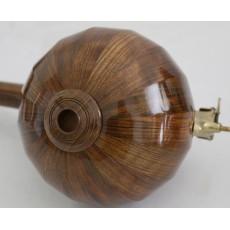 Soprano Kamancheh By Mohammadi Bros
One beautiful Kamancheh and masterpiece! New!
Tuning: Fa, Do, Sol, Re (From bottom to top)
Link to a professionally played Mohammadi Bros. made Kamanche: https://www.youtube.com/watch?v=Z5glaxcVtPQ
Specs:
Walnut wood body and neck
Nut & fingerboard: ebony
Bridge is cut out of flamed maple
Hand made tuning machines
Scale: 34cm
Strings: Pirastro
French polished
Comes with hand made bow with rosewood and fine horse hair hank
Hardcase included!
Any other info, please contact me: This email address is being protected from spambots. You need JavaScript enabled to view it.
Free Worldwide Shipping!