Iranian Oud Made By Moh. Bros/Pre-owned/In Stock!/SOLD!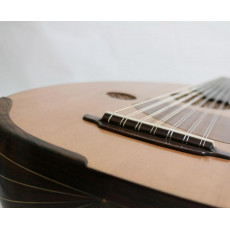 Here i have one master class Oud made by Mohammadi bros to offer.
This oud is 2 year old and played a lot, the ex-owner sold this oud because he has upgraded to more luxurious Mohammadi Bros oud, the famous fully ornamented version.
The general condition of the oud is just like new. The bowl is as clean as a baby and the soundboard shows some tiny dings.
In the pictures, i have tried to show them as closely as possible. Please pay attention that the pics are close-up, these dents are not as remarkable as in the pictures with naked eyes!
This oud has also some custom appointments to name: Binding, Pegbox face ornamentation, Inlays on the back of neck.
Playability is excellent with excellent action (at neck-joint treble side 2.5mm and the bass side 3.5mm). It has excellent clarity and great warmth.
Specs:
Bowl: Rosewood/Maple stripes
Neck: Walnut
Pegbox: Walnut
Pegs: Rosewood
Armrest: Rosewood
Shams: Hand-cut walnut
Brace wood: Red Cedar
Fingerboard: Ebony
Soundboard: Red Cedar 5A grade
Glue: Hot hide Glue
Scale: 58.5 cm, 7-course
Bridge: Rosewood
Nut: Ebony
Finish: Shellac ( French-polish)
Top finish: Yes, Shellac ( French-polish)
Hardcase: Included
For more info, please contact me at: This email address is being protected from spambots. You need JavaScript enabled to view it.