Iranian Oud Purpleheart/Maple Stripes/SOLD!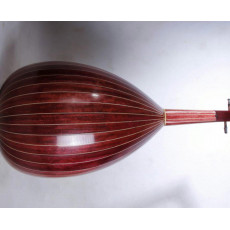 Here is again another beautifully made Purpleheart oud by Yahya, simple yet gorgeous looking. The sound of this beauty is nothing less than as impressive as it looks.
This one was ordered and already pick-up by the happy customer!
Soon one purpleheart oud like this one will be in stock!
Specs:
Body: Purpleheart with maple stripes
Binding: Rosewood
Fingerboard: Ebony
Neck: Purpleheart
Tuning pegs: Rosewood
Peg box: Purpleheart
Soundboard: German Spruce 5A
Bridge: Rosewood with a thin layer of ebony on top which works as saddle
Nut: Bone
Scale: 58.5
Finish: Shellac
Comes with hardcase & a soft-padded carrying gig-bag!
For more info, please contact me at: This email address is being protected from spambots. You need JavaScript enabled to view it.