Iranian Oud by Yahya/Curly Walnut & Ebony stripes/SOLD!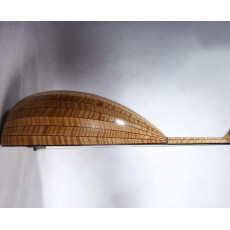 I guess i become somehow speechless, The pictures and soundsample do justice.
New & Sold! made by Yahya
Specs:
Bowl: Curly walnut/Ebony stripes
Neck: Walnut
Pegbox: Walnut
Bridge: Rosewood
Soundboard: German Spruce 5A
Bracewood: German Spruce 5A
Nut: Bone
Tuning pegs: Rosewood with Eye
Binding; Rosewood
Fingerboard: Ebony
Shams: Rosewood
Pickguard: Rosewood with inlay
Finish: French Polish (Shellac)
Scale: 58.5cm
Strings: Pyramid Custom set
Comes with hardcase
Free Worldwide Shipping!
More info? Please contact me at: This email address is being protected from spambots. You need JavaScript enabled to view it.