Hamid Ghorbanzade Flamed Walnut Oud/Sold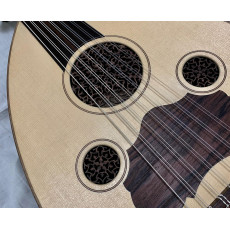 If you've ever heard of Hamid Ghorbanzade, you already know the pedigree of this Oud. Let's take a look at this cadillac of Ouds, the 2014 Ghorbanzade made oud, pre-owned and played by the famous oud player Sina Shoari(https://youtu.be/vzaopslTYtc)! This Oud appointments shine in pristine glory: stunning flamed walnut body bowl accompanied with 5A grade german spruce top ensures you of top-notch sounding oud for years to come! This oud has that Mojo that every oud player looks for.
One strum of the strings reveals that the spruce top and Old flamed walnut back have been consistently matched and sound magnificently.
Soundsample: https://youtu.be/vzaopslTYtc
Soundasample: https://youtu.be/lfzEig4EXjQ
Specs:
Bowl: Stunning flamed black walnut
Soundboard: German spruce 5A grade
Neck: Walnut
Pegbox: Walnut
Tuning pegs: Wittner
Binding: Rosewood
Fingerboard: Ebony
Bridge: Rosewood
Nut: Ebony
Finish: Shellac/French Polish
Rosette: Rosewood
Pick guard: wenge
Scale: 58.5cm, 7-course
Free worldwide shipping, insured and comes with hardcase!
More info or reservation? Please contact me at: This email address is being protected from spambots. You need JavaScript enabled to view it.