Flamed Black Walnut Oud By Karimian/Sold!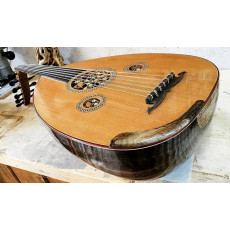 IN STOCK!! Sold!
While these days everywhere CNC and laser machines rule, Hossein Karimian still builds and cut every little millimeters of his instruments by hand & hand-tools, and this gives his instruments a magical touch of luthiery that you can hear when you play them. This is nothing but the love and passion for what he does.
Absolutely Amazing and mindblowing workmanship from the Karimian's workshop. Everytime that i get his instruments in the shop, i wonder how good his instruments are. The eye for detail is at its highest possible grade as the sound of his instruments. And this oud is nothing less than that.
His bracing method has developed the sound on his ouds in a way that they really can conquer any larger size oud regarding volume & brightness.
The sound of this instrument is everything you would expect from an instrument of this class, amazing volume and headroom, responsive, nice rich balanced overtones, powerful projection and an amazing dynamic range.
Sound Sample: https://www.youtube.com/watch?v=gQWatoNkFGU
Sound sample: https://youtu.be/xMPnrG5AvIo
Specs:
Bowl: Flamed Black walnut
Soundboard: Red Cedar 5A grade
Bracewood: Spruce
Fingerboard: Ebony
Neck & pegbox: Flamed Walnut
Pegs: Ebony
Shams: Walnut
Binding: Rosewood
Scale: 58.5cm, 6 course
Finish: French polish
Top finish: French polish
Pickguard: Transparent
Strings: Oriental instruments custom set
Comes with hardcase
Price Request : This email address is being protected from spambots. You need JavaScript enabled to view it.